I'll start with Miley Cyrus because, well, I just love her so much!
Here's her red carpet look:
I absolutely adore this outfit! The over-sized rhinestones were just the cherry on top of this high-waist-crop-top look. I also love that her "Just Breathe" tattoo is peeking out from under her top! And look at that hair! It's a nice play on Gwen Stefani via the No Doubt years.
Miley had a CRAZY performance (to say the least) which included two ourfits:
Which transformed into this:
Provocative. YES. But were you really expecting her to be fully clothed? I didn't think so. After she performed her summer hit "We Can't Stop", she joined Robin Thicke in his performance of "Blurred Lines". All in all, I adore Miley for doing what she wants and being her self. As she says in "We Can't Stop", "Remember only God can judge ya, forget the haters, cuz somebody loves ya".
Onto Katy Perry, who closed out the show with her performance of her new hit single, "Roar". But first, her red carpet look:
Katy looked very vicious in her feisty animal print! I'm not so sure how I feel about this, but I am not too big on animal prints personally. Maybe it's her simple hair? I feel like she could have done something bigger with this look.
Katy was actually not present for her performance though. She had a boxing ring set up under the Brooklyn Bridge where she rocked out "Rocky" style.
I LOVE the fire print shorts, and of course she had to wear the tiger print sports bra (Roar, tiger, you get it). Again I feel like both looks were just so simple. I honestly was expecting more out of Katy but what she lacked was covered by Miley and Lady Gaga, which brings me to the next celeb: Gaga.
Lady Gaga has recently made her comeback! After recovering from her hip surgery, she is back and better than ever!
The dark hair is a very different look for Gaga, considering when you think of her, you think of the blonde hair. I do think this is a much more mature look for her. Kudos Gaga! She also performed her new hit "Applause" (if you haven't seen the video, check it out
HERE
. I love the direction that she has gone). Her outfits for her performance were ever changing. Literally. She went through more than 3 outfits within a 5 minute period, which I applaud (get it, applaud, applause..) her for. The performance began in this ensemble:
VERY VERY GAGA. Then turned into this:
Which led to this:
Which FINALLY led to this show stopper that is also featured in her music video:
I won't post the back view of this outfit because, well, there isn't much to see. Except Gaga's perfectly toned behind, because that is a thong that she is wearing. Although I must say, MIley Cyrus made Gaga's performance seem somewhat normal.
We can't forget about the guys, though! There was some AWESOME men's fashion on the red carpet this year.
N*SYNC looked VERY classy! It was a nice change from their old style, which sometimes included ALL DENIM outfits. Glad they let the 90's keep that look!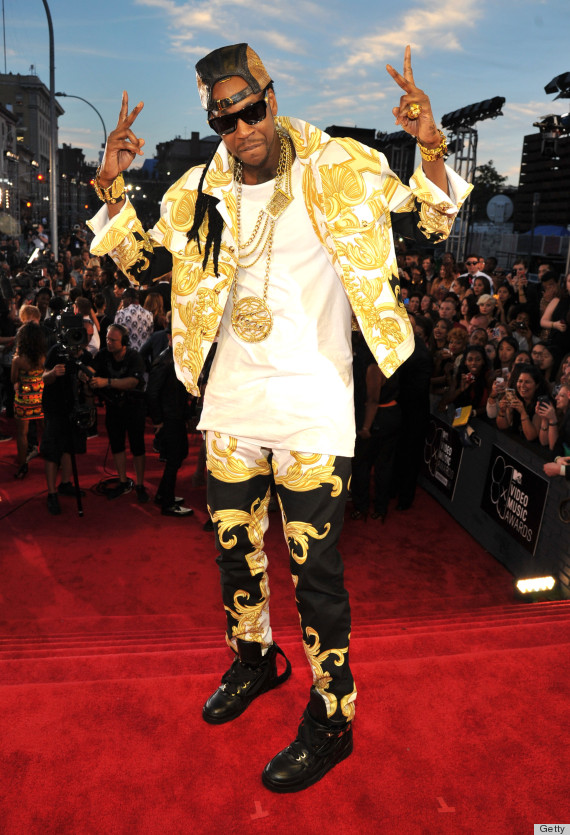 2 Chainz showed up decked out in Versace.
And we can't forget the One Direction boys!
(As much as I do not want to like their music, IT IS SO CATCHY!)
The boys look cool, calm, and collective, as usual. They can pull off this effortless look better than any other boy band that I have seen!
I hope you have enjoyed my little recap and opinions! Of course I still wish I could have seen it live, but hey, that's what the internet is for, right?
Now go have a great Monday! It is possible, I promise!